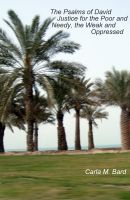 The Psalms of David, Justice for the Poor and Needy, the Weak and Oppressed
by

Carla Bard
In this book The Psalms of David, it deals with some of the most important highlights of The Book of Psalms such as understanding the fear of God. As The Book of Psalms will do, The Psalms of David will strengthen our Faith in times of struggle, uncertainties, hard times, plague, wickedness and famine in the lands. A book that maintains the cause of the afflicted and justice for the poor.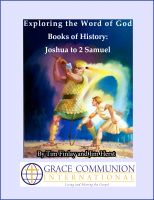 Exploring the Word of God: Books of History: Joshua to 2 Samuel
by

Tim Finlay

&

jimherst2
This is a lay-level introduction to the books of Joshua, Judges, Ruth, 1& 2 Samuel. In each book, we look at the way the book is organized, its main themes, and lessons we learn from it today. There are character sketches of Joshua, Deborah, Gideon, Jephthah, Samson, Samuel, Saul, David and Bathsheba. By Tim Finlay and Jim Herst.