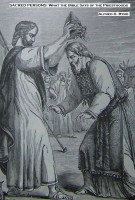 Sacred Persons: What the Bible Says about the Priesthoods
by

Alfred D. Byrd
Everyone who believes in Jesus Christ is a priest. To understand what this teaching means for us, we must answer (1) What is a priest? (2) How does one become one? (3) What are one's duties and privileges? We can answer these questions by following the thread of priesthood through Scripture and seeing how it leads to the priesthood of the believer -- a priesthood of service.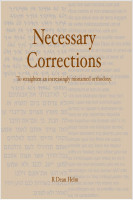 Necessary Corrections: To Straighten an Increasingly Misnamed 'Orthodoxy'
by

Dean Helm
After years of studying the Hebrew and Christian scriptures I have always been puzzled by the "connect" between the two, and, the "disconnect" between them and the Christianity we know today. When did the message stop being the message of Jesus and become Jesus the messenger? I wish to weave traditions hoary with age into fabric for today to answer: Where do we need to go and how can we get there?