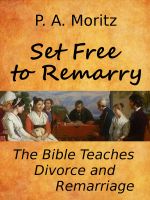 Set Free to Remarry
by

P. A. Moritz
(5.00 from 1 review)
This book sets people free from the misconception that the Bible condemns divorce and remarriage, and the book is entirely supported by Scripture and history.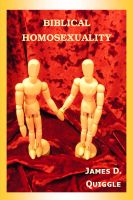 Biblical Homosexuality
by

James D. Quiggle
(4.00 from 1 review)
What does the Bible really say about homosexuality and other acts of sexual immorality? The God who prohibited rape, bestiality, incest, prostitution, and, yes, homosexuality in the Old Testament did not change his moral values in the New Testament. Every important Old and New Testament scripture is examined and common objections to the biblical view are discussed.
Related Categories