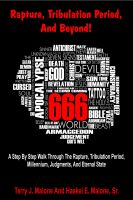 Rapture, Tribulation Period, And Beyond!
by

Terry Malone
(5.00 from 6 reviews)
This book takes you from the rapture of the church, through the tribulation period, and on into the Millennial Reign of Christ. You will learn about the characters of the tribulation period and order of events, real life tribulation period scenarios, the Second Coming of Christ, the Millennium, the judgments (when they will take place) and what the eternal state will be like.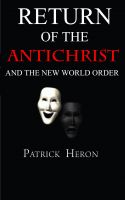 Return of the Antichrist and the New World Order
by

Patrick Heron
An in depth study of the man we call the Antichrist but John the Revelator terms the Beast who ascends out of the Abyss. This book debunks most of the common and accepted assumptions of the Antichrist and instead presents a scripturally based study of he who is to come."As it was in the days of Noah, so shall it be." Fallen angels roamed the earth in those days and will do so again very soon.
Related Categories