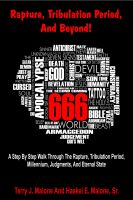 Rapture, Tribulation Period, And Beyond!
by

Terry Malone
(5.00 from 6 reviews)
This book takes you from the rapture of the church, through the tribulation period, and on into the Millennial Reign of Christ. You will learn about the characters of the tribulation period and order of events, real life tribulation period scenarios, the Second Coming of Christ, the Millennium, the judgments (when they will take place) and what the eternal state will be like.
Related Categories