Which Article?
by

Adriana Mucea
A challenging grammar point to master when learning English is represented by articles. In most cases this happens because the learners' first language has different rules concerning articles or the language doesn't have any articles. This book is intended for learners of English and test takers who need to review grammar rules or any reader who wishes to extend their knowledge of this language.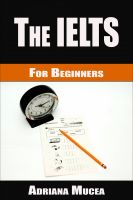 The IELTS for Beginners
by

Adriana Mucea
The book is intended for first time IELTS candidates, especially for those who have not taken any specialised courses. It contains information about writing on the answer sheet, descriptions of the four parts of the test and some tips on how to prepare before the exam.