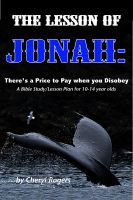 The Lesson of Jonah: There is a Price to Pay when you Disobey
by

Cheryl Rogers
(5.00 from 1 review)
Jonah learned the hard way there is a price for disobedience. This Bible lesson targets 10 to 14 year olds with that message. The lesson relies on a wail tale, or exaggerated tale of woe, involving a modern Jonah. Reinforce the lesson of Jonah with this free resource by Cheryl Rogers, the publisher of New Christian Books Online Magazine.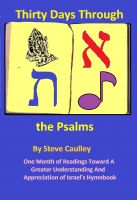 Thirty Days Through the Psalms
by

Steve Caulley
(5.00 from 1 review)
Thirty Days Through the Psalms is a nontechnical study in which the 150 Psalms have been divided into 30 daily readings of similar length (about 82 verses per day). The grouping of these psalms is based on: their types ; their possible uses in Jewish worship; as well as traditional categories. Each day's reading includes a short introduction that gives background to the group of psalms being read.