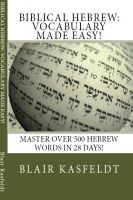 Biblical Hebrew: Vocabulary Made Easy!
by

Blair Kasfeldt
Based on easy to use, yet powerful "mnemonics," you can easily master Biblical Hebrew Vocabulary. No rote memory work required! Troubling "sound-alike" words in Hebrew are covered in-depth and readers inductively learn how to keep words that sound alike in Hebrew distinct. Please note: Due to file size restrictions the eBook version does not contain chapter end notes.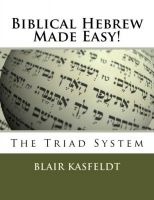 Biblical Hebrew Made Easy: The Triad System
by

Blair Kasfeldt
Master the Biblical Hebrew Verbal System — Quickly and Easily! Utilizing ancient memory principles, students of Biblical Hebrew will quickly learn: the verbal system, the seven stems of the Strong Verbs in Hebrew and much more!
Related Categories