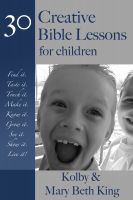 Creative Bible Lessons for Children
by

Kolby & Mary Beth King
This ebook includes FIVE six-week series--that's 30 Bible lessons for children that can be used as a teaching curriculum or adapted for in-home use. Series include: Marshmallow Madness, Sticky Situations, Kitchen Craze, More Kitchen Craze, and Balloon Blast.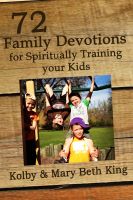 72 Family Devotions for Spiritually Training Your Kids
by

Kolby & Mary Beth King
Featuring 72 action-packed, easy-to-lead family devotions. Set aside a night or two each week for a "special time" where you and your kids can have family fun together and learn valuable lessons from God's Word. No advanced planning is needed. Anyone can do this. The ebook contains devotions concerning a variety of topics including salvation, fear, trust, sin, forgiveness and much more.
Related Categories