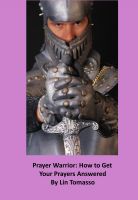 Prayer Warrior: How to Get Your Prayers Answered
by

Lin Tomasso
(5.00 from 2 reviews)
A sometimes humorous look at why prayer often doesn't seem to work for us, Prayer Warrior is full of basic guidelines which have largely been overlooked. This book troubleshoots the how's and why's of prayer, and how to get it to function effectively. If your prayers seem to fall on deaf ears, try doing it the right way for a change. Prayer is a formula-make sure you're using the right one.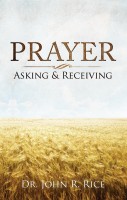 Prayer—Asking and Receiving
by

John R. Rice
Dr. John R. Rice was widely known as a man of prayer—not just a man who spent time in prayer, but one who was heard and answered by God. In this, he was like the heroes of the Faith of which we read in the Bible. From before the days of Elijah on through the days of the early church, prayer has always been God's means of pouring out His greatest blessings on His servants.
Related Categories