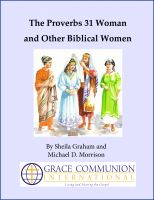 The Proverbs 31 Woman and Other Biblical Women
by

Sheila Graham

&

Michael D. Morrison
Who can find a woman of such worth? The description given in Proverbs 31 is a composite - no one person has all these abilities - but all people can have the greatest virtue. This e-book also contains vignettes of Miriam, Deborah, Bathsheba, and women in the ministry of Jesus. Two articles address the question of what roles women may have in the church today.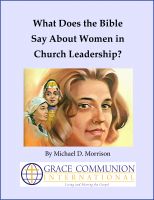 What Does the Bible Say About Women in Church Leadership?
by

Michael D. Morrison
In 2004, Grace Communion International began a thorough examination of women in church leadership positions, such as pastors. A careful study was done in Scripture, with special attention to certain key NT texts. Both complementarian and egalitarian scholars sometimes push the evidence further than is warranted. With a cautious approach, we concluded that women may serve as pastors.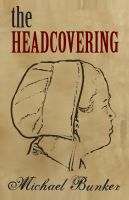 The Headcovering
by

Michael Bunker
What does the Bible have to say about the woman's Headcovering? Is it just a matter of opinion? Author, teacher, and historian Michael Bunker examines this issue in with the light of the scriptures and history.
Related Categories