Prosperity, Eternity: Why Receive, Why Give!
We believe in prosperity, but what's prosperity? We hold that Christian giving is the secret of prosperity, but prosperity for what? There is a SPECIAL REASON, for filled barns and 'bursting presses'. There is a special reason the liberal soul is made fat and he that waters is watered also himself. What's it? What's prosperity's essence? What has eternity got to do with it? The book comes in here.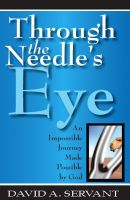 Through The Needles Eye
In this new book, David Servant considers everything that Jesus, as well as every author of the Old and New Testaments, taught in regard to stewardship. His conclusions are not easy to disregard. Although impossible by pure human effort, the journey through the needle's eye is possible with God!