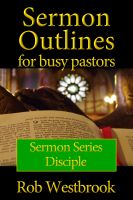 Sermon Outlines for Busy Pastors: Disciple Sermon Series
by

Rob Westbrook
One of the biggest downfalls of today's church is the failure to make disciples. Sermon Outlines for Busy Pastors: Disciple contains 11 sermon outlines to teach discipleship to your church and lay the groundwork for disciple-making. If discipleship is a priority for you, this sermon series will help you begin true disciple-making in your church.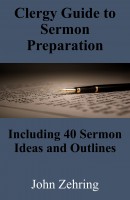 Clergy Guide to Sermon Preparation: Including 40 Sermon Ideas and Outlines
by

John Zehring
"Clergy Guide to Sermon Preparation" is designed for seasoned clergy who are always on the lookout for new ideas. Included are tips for preparing sermons, a special section on "How to Keep Weeks Ahead… and why you should" and forty sermon ideas and outlines, rich with illustrations, stories, and quotations to help apply the bible's teachings to the everyday lives and needs of your listeners.
Related Categories