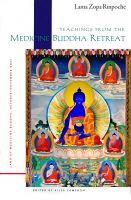 Teachings From the Medicine Buddha Retreat
by

Lama Zopa Rinpoche
This book contains nearly complete record of the teachings given by Lama Zopa Rinpoche during a Medicine Buddha retreat in the fall of 2001. The sections are short, on topics such as making offerings to the buddhas and the nature of mind. The retreat was held less than two months after the 9/11 attacks, and Lama Zopa's teachings are full of references to terrorism, war, Iraq, and Afghanistan.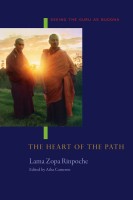 The Heart of the Path: Seeing the Guru as Buddha
by

Lama Zopa Rinpoche
This book is an extensive teaching on guru yoga by Lama Zopa Rinpoche, a contemporary exemplar of the practice. Rinpoche explains the importance of guru devotion, the proper way to develop a student-teacher bond and offers commentary on each traditional guru devotion sub-topic found in Tsongkhapa's lam-rim. The text also provides a textual outline to help guide your reading through the topics.