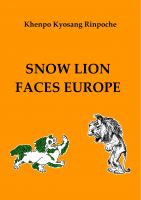 Snow Lion Faces Europe
This profound book is a collection of religious sermons. Yet its author, Khenpo Kyosang Rinpoche, never was a priest. He, director of the Je Tsongkapa College, is an outstanding Tibetan Buddhist lama. Rinpoche's observations of Western society, far from idea of "political correctness", may shock anyone. However shocking they are, their truth will strike the reader.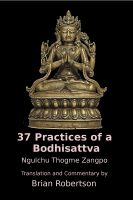 37 Practices of a Bodhisattva: The Way of an Awakening Being
(5.00 from 1 review)
Description: A Tibetan Buddhist classic by Thogme Zangpo, 37 Practices of a Bodhisattva is given a lovingly expanded and updated translation and commentary by Brian Robertson. For beginners to longtime students the book is a practical manual and contains such famous lines such as: "All suffering comes from wanting only your own happiness. Perfect awakening is born from wanting to benefit others."