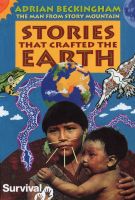 Stories That Crafted The Earth
by

Adrian Beckingham
(5.00 from 2 reviews)
International storyteller Adrian Beckingham, The Man From Story Mountain, has worked with indigenous peoples for over two decades. Enjoy here a rare collection of tales from the firesides, carried across thousands of years of oral tradition, about how our world was made. It tells the beginnings of the first rivers, mountains, forests, valleys, oceans, stars, sun, moon, animals,and people.
Hel's Legacy: The Second Coming
by

Kerry Ogden
(5.00 from 1 review)
When an ancient text surfaced in 1871 describing a disaster similar to the sinking of the Island of Atlantis and a man resembling Jesus Christ living over 4,000 years ago, scholars quickly deemed it a fraud and later a hoax. Nevertheless, a closer examination into the manuscript, now being called the Oera Linda Book, provides ample evidence to refute their conclusions.