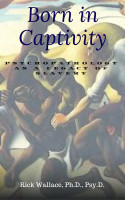 Born In Captivity: Psychopathology as a Legacy of Slavery
by

Rick Wallace Ph.D, Psy.D.
Born in Captivity is my 19th book to reach publication, and it is also the most in-depth and comprehensive book thus far. It is a reflection of the more than 50,000 hours of research conducted over the last 20 plus years. In this book, I confront the darkness that is normally avoided at all cost — psychopathology as a legacy of slavery.