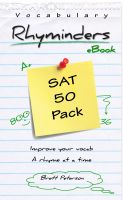 SAT Vocabulary Word Rhyminders: 50 Rhyme Pack
by

Brett Peterson
Improve your vocabulary a rhyme at a time with Vocabulary Rhyminders: SAT 50 Pack. This eBook includes creative and memorable rhymes for 50 vocabulary words likely to appear on the SAT exam. Don't spend countless hours in front of a dictionary when there is a better alternative. Pick up Vocabulary Rhyminders and enjoy the process of learning new words.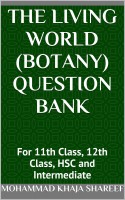 The Living World (Botany) Question Bank
by

Mohmmad Khaja Shareef
ABOUT THIS QUESTION BANK: 1. This Question Bank begins with Contents, Synopsis, Description and Questions and Answers. 2. Answers provided to Very Short Answer Type Questions, Short Answer Type Questions, Long Answer Type Questions and Miscellaneous.