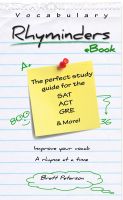 Vocabulary Rhyminders: SAT, ACT and GRE Word Rhyme Study Guide
It's time to start having fun learning new words! Are you frustrated with memorizing confusing definitions? Discouraged by constantly flipping through a dictionary? Thanks to Vocabulary Rhyminders you can now enjoy learning new vocabulary words for the SAT, ACT or GRE! By utilizing memorable rhymes to help you understand difficult vocabulary words, Rhyminders motivates you to test day and beyond!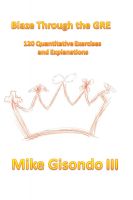 Blaze Through the GRE 120 Quantitative Exercises and Explanations
Studying for the GRE? This book will guide you to a better score on the quantitative section. With this book, you'll be able to assess which areas you need more practice with while mastering those that need little practice. All 120 sample exercises come with a full explanation of the answer for step by step studying. Every recommended topic to study by the makers of the GRE is covered.