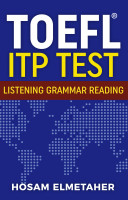 TOEFL ® ITP TEST: Listening, Grammar & Reading
by

Hosam Elmetaher
Each page of the book contains different authentic TOEFL® ITP questions (free audio and script for the listening questions), new vocabulary words, explanations for the correct answers, TOEFL®ITP tips, English tips, some online resources, and lots of practice questions.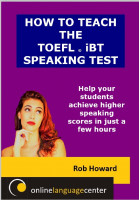 How To Teach The TOEFL® iBT Speaking Test
by

Rob Howard
This is a guide for use in beating the TOEFL® iBT speaking test. It is a quick and easy method that I developed eight years ago and is still getting results for test-takers in the range of 28 to 30 out of 30. With only a few weeks of teaching and practice, you too can teach your students to achieve a higher score.