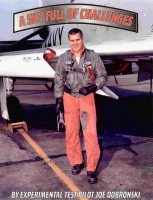 A Sky Full of Challenges
by

Joseph Dobronski SR.
Extraordinary test pilot, Joe Dobronski colorfully tells his experiences flying early to recent jet aircraft in a way that is engaging for everyone and captivating for pilots. You will learn about many unique challenges encountered in the successes and tragedies of fighter development during the "Golden Age of Aviation." All proceeds are sent to Catholic Missions.