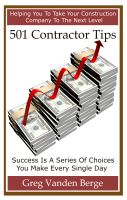 501 Contractor Tips
This book is full of my personal successes and failures as a contractor and construction worker. It's been a long journey and I'm sure there's more lessons to learn in the future. I'm sharing some of the ones I've already experienced, in hopes that you will learn to profit from them.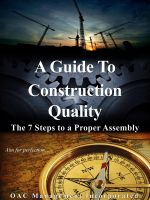 A Guide to Construction Quality - The 7 Steps to a Proper Assembly
A Guide to Construction Quality is an easy to use reference guide for the most commonly used construction assemblies in the industry. The reader will be able to quickly reference the 7 critical steps needed to assure a proper assembly and delivery of a quality product. Written for anybody working on the job site, from Project Managers to Craftsmen. A must read for anyone in construction!