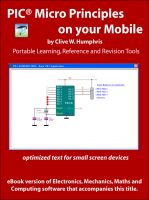 PIC® Micro Principles on your Mobile
This eBook has been optimized for use on mobile devices with a small screen. Now published as a portable, learning, reference and subject revision guide, students, teachers and hobbyists can have their own low-cost portable version as an eBook on a mobile phone.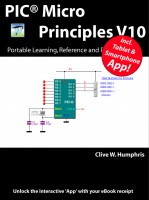 PIC® Micro Principles V10
PIC® Micro Principles V10 eBook covers all the topics of this popular software title used in schools and colleges worldwide for over twenty years and now available as a Tablet and Smartphone App. See Additional Notes at the back of the book for instructions to download the accompanying interactive App which brings the 250+ topics to life by allowing you to insert your own values.