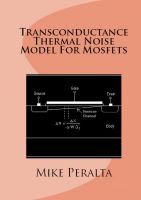 Transconductance Thermal Noise Model For Mosfets
by

Mike Peralta
Accurate expressions for MOSFET channel thermal noise in terms of transconductances are derived for long and short channel MOSFETs in the strong, weak, and moderate inversion regions. The transconductance form also allows us to formulate a thermal noise model which includes the triode as well as saturation regions. I also let's us easily include excess thermal noise for short channels.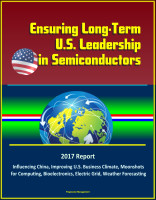 Ensuring Long-Term U.S. Leadership in Semiconductors - 2017 Report, Influencing China, Improving U.S. Business Climate, Moonshots for Computing, Bioelectronics, Electric Grid, Weather Forecasting
by

Progressive Management
Today, U.S. semiconductor innovation, competitiveness, and integrity face major challenges. Semiconductor innovation is already slowing as industry faces fundamental technological limits and rapidly evolving markets. Now a concerted push by China to reshape the market in its favor, using industrial policies backed by over one hundred billion dollars.