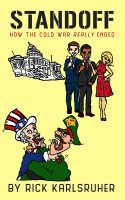 Standoff, How The Cold War Really Ended
by

Rick Karlsruher
(5.00 from 14 reviews)
What if everything you thought you knew about how the Cold War ended was wrong? Forget about Reagan, Gorbachev and the Pope. When the superpowers decided they couldn't blow each other off the face of the Earth, other plans had to be created. Think of Dr. Strangelove meets Barney Fife meets Angie Tribeca while wagging the dog. Standoff is the participants' story...and they are sticking to it!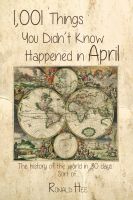 1,001 Things You Didn't Know Happened in April
by

Ronald Hee
(5.00 from 1 review)
This is a quirky and unique take on the history of the world to today, all seen through events and peoples in the month of April, since the beginnings of recorded history. Each entry is explained in a short paragraph of 100 to 125 words, comprising not only traditional history, but also social history, the history of science, and a sad catalog of disasters, both natural and man-made. Enjoy!
Related Categories