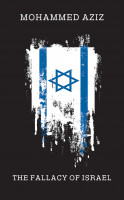 The Fallacy of Israel
by

M. Aziz
The Fallacy of Israel is a digital-only essay by Mohammed Aziz which concisely questions Zionism on biological, theological, moral, historical and political bases, and declares a two-state solution in the Middle East dead.
Deconstructing the Syrian War
by

Chris Kanthan
The mainstream narrative about the Syrian war is sheer propaganda. The truth about this war: it was Project Mujahideen 2.0 - a proxy war waged with extremists and terrorists. To understand this war, is to know how the world works. This book has shocking revelations about the Syrian war, ISIS, propaganda, globalism and even social engineering.
Related Categories