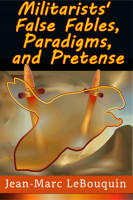 Militarists' False Fables, Paradigms, and Pretense
by

Jean-Marc Lebouquin
Under Obama's Iran Nuclear Deal; the U.N. asks vendors world-wide to submit procurement proposals combining ballistic missile systems with nuclear weapons associated assets for sale to Iran. The advantage of combining these two classes of items; is that sold together the package is routed through the U.N. PWG Dept.; preventing the IAEA from inspecting the contents of the Iranian bought parcels.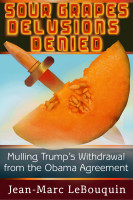 Sour Grapes Delusions Denied; Mulling Trump's Withdrawal from the Obama Agreement
by

Jean-Marc Lebouquin
The 115th Congress put before the President a multi-trillion dollar appropriations bill For fiscal year 2018, which did not hint one word about funding expenses needed in support of continued U.S. participation in the Obama-Iran deal. Proponents of the deal would not discuss on Record funding of needed expenses. Representative Govt again puts a quick end to US involvement in unfunded adventure.
Related Categories