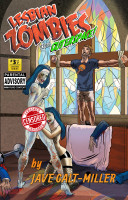 Lesbian Zombies from Outer Space: Issue 3
by

Jave Galt-Miller
Upon the grim realization that Ace's precious Captain Hammer videotapes are missing, and that their vehicle has been destroyed by irrationally destructive lesbian zombies, Ace and Gwen seek shelter for the night in a Catholic church. But is it wise to shack up in a building full of nuns in the midst of a lesbian zombie apocalypse? Read the book to find out!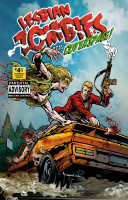 Lesbian Zombies from Outer Space: Issue 4
by

Jave Galt-Miller
After fleeing a church overrun with lesbian zombie nuns, Ace and Gwen liberated a car so they could escape town. Unfortunately it ran out of gas moments later, and they are stuck once again. In this issue they find a man who has concocted the perfect plan to stop the Lesbian Zombie invasion. And perhaps more important, Ace finds out what happened to his precious videotapes...
Related Categories