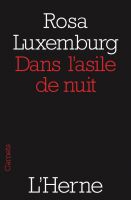 Dans l'asile de nuit, suivi de 'Lettres de ma prison'
by

Rosa Luxemburg
Rosa Luxemburg répugnait à la tiédeur. S'emparant d'un fait divers (l'empoisonnement mortel d'une centaine de miséreux par de la nourriture avariée), elle dénonce la logique d'un système qui assure dans le même temps la prospérité indécente d'une poignée de privilégiés et jette dans la misère noire une frange croissante du peuple. Un texte d'une actualité brûlante.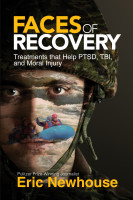 Faces of Recovery: Treatments that Help PTSD, TBI, and Moral Injury
by

Eric Newhouse
Faces of Recovery reports on how millions of American soldiers have faced the ultimate dilemma: kill the enemy or risk being killed yourself. Each choice adds to the trauma — prolonged combat increases emotional and physical injury. This book also describes a newly discovered problem, moral injury. The book shows how healing requires forgiveness, atonement, self-forgiveness, and physical exercise.