The Student Loan Swindle: Why It Happened – Who's To Blame – How The Victims Can Be Saved
The only way to resolve the student loan crisis is with a robust campaign of civil disobedience. This book explains how to use the Internet and social media to force a settlement on Wall Street that is fair to bankers and borrowers alike. Civil disobedience is justified by an analysis of the history of the crisis and the damage it has done to working families and our system of higher education.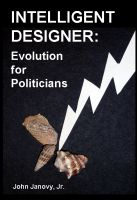 Intelligent Designer: Evolution for Politicians
The Third Millennium American culture wars have produced the most scientifically illiterate politicians, including Presidential candidates, in modern times: climate change deniers, Biblical literalists, etc. This nation cannot afford such ignorance. This book brings badly needed help for a nation in desperate need of science literacy in high places. Send a copy to your elected representative!