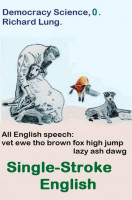 Single-stroke English (long edition)
by

Richard Lung
In conservative youth, this reformer attempted fruitlessly to make English spelling regular. In middle age, I tried to invent radical new alphabets, also to no avail. In old-age, radicalism and conservatism combined, to produce, after a good few years trial and error, Single-stroke English (SE). I found out the hard way, that only a short-hand based on ones native alphabet, was memorable.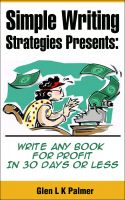 Simple Writing Strategies Presents: Write Any Book For Profit In 30 Days or Less
by

Glen L K Palmer
(4.00 from 1 review)
So you want to learn how to write a book but you don't know where to start, or even what to write about, you just know you want to write one. Well my dear fellow writer, I have you covered. In this book you'll learn essential skills that will enable you to write a book faster than you ever thought possible, even if you've never written a lick of content in your life.