The Radical Moderate
by

Pat O'Brien
(5.00 from 1 review)
"The Radical Moderate" details a new way to view politics and public policy in the United States. This book focuses on pragmatic solutions to the challenges that face this country. Pat O'Brien draws from his experiences in the private sector and as a former elected official. The ideas in this book are fresh and can stand the test of time.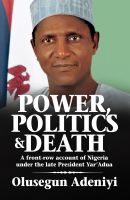 Power, Politics and Death
by

Olusegun Adeniyi
(3.50 from 2 reviews)
Filled with political intrigue and revealing anecdotes, Power, Politics, and Death chronicles the events and power struggles within the Nigerain government during President Yar'Adua's time in office, particularly in the final months leading up to his death. Readers also get the inside story on Yar'Adua himself: his successes, struggles and unfulfilled political dreams.
Related Categories