Special Deals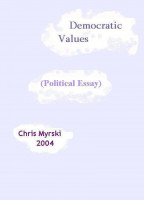 Democratic Values (Political Essay)
by

Chris Myrski
This is an unorthodox article about the morality and the democracy explaining some basic, yet misunderstood, points about the democracy, in what way it is good and in what bad, why it has no morality, and how we can better it a little. This essay is of a bit later time, so that it contains in brief form other, more profound, ideas expressed earlier. There is also a funny poetical Appendix to it.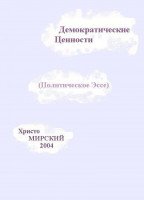 Демократические Ценности (Политическое Эссе)
by

Chris Myrski
In Russian. Это неортодоксальное эссе о морали и демократии, объясняющее некоторые основные, но неправильно понятые, идеи о демократии, чем она хороша и плоха, почему в ней нету морали, и как её немного улучшить. Это более поздняя разработка автора и она охватывает в сокращённом виде другие более углублённые разработки о демократии. В конце добавлен один юмористический стишок на английском.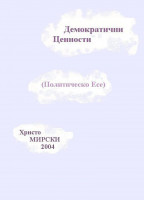 Демократични Ценности (Политическо Есе)
by

Chris Myrski
In Bulgarian. Това е кратко есе за прословутите демократически ценности, в които се оказва, че практически няма никакви ценности. Но това е демокрацията. Накрая има и стихотворно приложение по темата, на английски (от чувство за срамежливост).
Related Categories