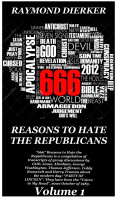 "666 Reasons" to Hate the Republicans Vol I
by

Raymond Dierker
"666" Reasons to Hate the Republicans is a compilation of transcripts of group discussions by GOD, Jesus, Abraham, George Washington, Thomas Jefferson, Teddy Roosevelt and Harry Truman about the modern day: "PARTY OF LINCOLN". They have been the "Voices in My Head", since October of 1983. This is fully explained in my memoir: "God...Chairman of the Board of the World".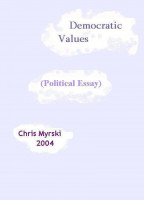 Democratic Values (Political Essay)
by

Chris Myrski
This is an unorthodox article about the morality and the democracy explaining some basic, yet misunderstood, points about the democracy, in what way it is good and in what bad, why it has no morality, and how we can better it a little. This essay is of a bit later time, so that it contains in brief form other, more profound, ideas expressed earlier. There is also a funny poetical Appendix to it.
Related Categories