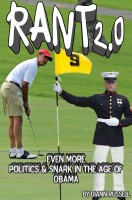 RANT 2.0: Even More Politics & Snark in the Age of Obama
by

Diann Russell
In this second volume collection of her daily column DIANNY RANTS, Diann Russell picks up where she left off in volume one. Including almost 100 hilarious DIANNY images, RANT 2.0 explores the person of Barack Obama and life in Obama's America. From the economy to climate change, from a nagging First Lady to the endless Obama vacations, Diann covers it all with razor wit and political savvy.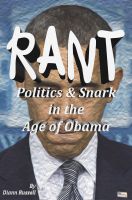 RANT: Politics & Snark in the Age of Obama
by

Diann Russell
Insightful, snarky, not to mention hilarious, RANT by Diann Russell takes aim at politics in the Age of Obama -- from the Royal Family (AKA The Obamas) to the first cartoon character ever to occupy the office of Vice President. From Gun Control to Gay Marriage. From Immigration Reform to Hollywood. Prepare to be entertained, frustrated, and inspired. RANT is a powerful, often hysterical read.
Related Categories