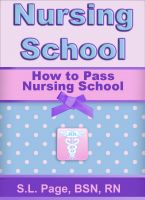 How to Pass Nursing School
by

S.L. Page
"How to Pass Nursing School" is a comprehensive book that covers all of the important aspects of nursing school. Unlike other books on this topic, this book will tell you all about nursing school--from A to Z! This guide was written to give students tips to pass, and to tell them exactly what to expect when attending nursing school.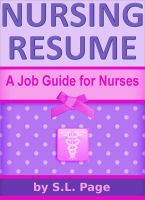 Nursing Resume: A Job Guide for Nurses
by

S.L. Page
(5.00 from 1 review)
Nursing Resume: A Job Guide for nurses is a complete eBook package to help nurses find a job. This eBook is short and to the point, and the entire package includes 10 premium resume templates (see inside book for a preview), 10 premium cover letter templates (they match the resume templates), a few basic traditional resume templates, and a sample resignation (or two weeks' notice) template.