The New Mexico Approach to Government
(5.00 from 1 review)
A policy guide created to present the political philosophy of Dr. Michael Ham, a candidate for the United States Senate in 2012.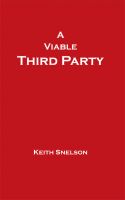 A Viable Third Party
(4.00 from 1 review)
Franklin Roosevelt and Lyndon Johnson are the Democrats favorites for they represent big government, welfare programs and big debts. The Democrats brought us two undeclared wars, which we did not win, refused to solve the problems they created with social security and our health system and created agencies to write laws.