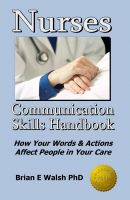 Nurses Communication Skills Handbook: How Your Words and Actions Affect People in Your Care
This handbook is specifically designed to help you sharpen your professional communication skills and make you more effective than you already are. In short you are more effective because clear communication reduces stress and enhances comfort. These innovative techniques are "learnable." This book is meant to complement and enhance the hard skills you use daily on the job.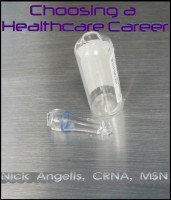 Choosing a Healthcare Career
Want a successful career in health care? ADVANCE for Nurses magazine contributor Nick Angelis shares wacky stories and timeless lessons based on his decade and a half of experience from a lowly nurse tech to an exalted nurse anesthetist! Learn practical tips on interviewing well, not being creepy, and avoiding the kind of student loan payments that tempt you to sell your children.