Life in th ER After Midnight Book 6
Continuing true story of Paul and Kelly's work as Paul's work as a vererinarin, flight nurse, Kelly's work as a trauma surgeon and their family. It gets involved with their lives, but all the traumas are real.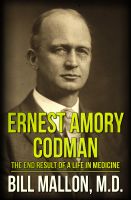 Ernest Amory Codman: The End Result of a Life in Medicine
Here's the first book-length biography of Ernest A. Codman (1869-1940), "father of shoulder surgery" and pioneer in outcomes research. This book vividly recalls Codman's career, including his breakthrough idea that patients' progress should be followed long enough to determine if their treatments are working.