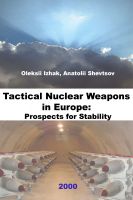 Tactical Nuclear Weapons in Europe: Prospects for Stability
This study is concerned with the present and future role of tactical nuclear weapons in the new European security system as seen from Ukraine, a country which once had the world's third largest nuclear arsenal stationed on its territory.
America Disarmed: Inside the U.N. and Obama's Scheme to Destroy the Second Amendment
America Disarmed shows you how Obama and the United Nations are teaming up to make their gun ban dream – and your nightmare – a reality. This expertly sourced sequel to Wayne LaPierre's 2006 blockbuster, The Global War on Your Guns, exposes the Obama administration's scheme to use the United Nations to make an end-run around the Constitution.