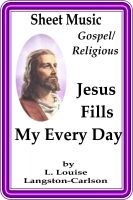 Sheet Music Jesus Fills My Every Day
by

L. Louise Langston-Carlson
Key of F. Sheet music includes Lyrics Only page, Lyrics with music in grand staff and guitar chords noted. Also included is a Template for a Transposition Wheel you can cut out and construct. Wheel helps one change keys if the key the music is written in is too high or too low for you.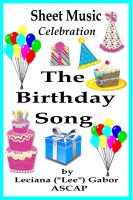 Sheet Music The Birthday Song
by

Lee Gabor
A very short song in the style of the famous "Happy Birthday," to be used for birthday celebrations. This song was written in the 1970s specifically upon request by a young lady who was celebrating her birthday in the piano bar in Madison, WI, at which Lee played piano and sang.
Related Categories