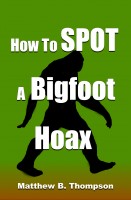 How To Spot A Bigfoot Hoax
by

Matthew B. Thompson
Bigfoot TV programs often show Bigfooters LOOKING for a bigfoot, but never FINDING a bigfoot. There are lots of reasons why this happens: ignorance, continuing to get paid to look for one, protecting the bigfoots, etc. Those TV programs have created a tenuous vacuum in human knowledge, and this book tries to fill that vacuum.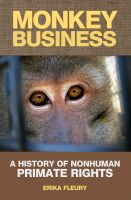 Monkey Business: A History Of Nonhuman Primate Rights
by

Erika Fleury
Nonhuman primates have a dual role in modern society: revered for their intelligence, uncanny mimicry, and biological relation to humans, yet often forced to spend entire lifetimes as unwilling participants in the bioresearch, entertainment, and pet industries. Monkey Business examines the diverse issues involved with accepting mankind's closest relative into its circle of ethical consideration.