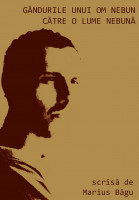 Gandurile unui Om Nebun catre o Lume Nebuna
by

Marius Bagu
Gândurile unui Om Nebun către o Lume Nebună prezintă o perspectivă diferită asupra naturii umane și a modului în care se pot manifesta bolile psihice. Cartea studiază în adânc persoana și gândurile unui personaj pe nume Baron, care suferă de tulburare obsesiv-compulsivă.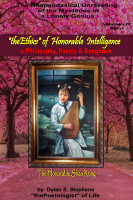 "theEthics" of Honorable Intelligence
by

Dylan S. Stephens
Dedicated to the Ancient Poets of Human Enlightenment No MAN, knows "theDestiny" of the footprints, he leaves, in the Annals of Time, except the Man who devotes his Life his Ancestral Dreams recorded to the honorable Shao Rong, Jimi Hendrix, Missa Johnouchi, Allman Brothers, Carlos Santana, Naoyuki Onda, Jean-Luc Ponty, Robin Trower, Jiang Xiao-Qing and Jia Peng Fang.