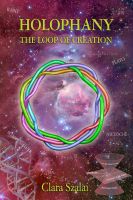 Holophany, The Loop of Creation
by

Clara Szalai
(5.00 from 1 review)
A new paradigm in philosophy exploring the structure of consciousness through analysis of the act of perception and creativity. By abolishing axioms and truisms and instead, investigating the mechanism whereby these were created, authoritative dogma becomes redundant. As an alternative, knowledge of the structure of consciousness endows one with personal, social and global responsibility.
Butterflies Are Free To Fly: A New and Radical Approach to Spiritual Evolution
by

Stephen Davis
(4.25 from 4 reviews)
When Nicolaus Copernicus discovered the Earth wasn't the center of the Universe, everything changed. When Frederick Miescher discovered DNA, everything changed again. When quantum physicists discovered our physical universe isn't real, that it's a hologram - everything ... wait! Nothing changed - yet. Now "Butterflies Are Free To Fly" offers a new and radical approach to spiritual evolution.
Related Categories