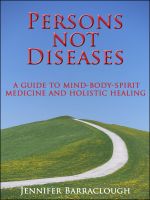 Persons not Diseases: A Guide to Mind-Body-Spirit Medicine and Holistic Healing
by

Jennifer Barraclough
(5.00 from 1 review)
An outline of the holistic healing approach, written for both general readers and healthcare professionals. Describes how changes to lifestyle and mindset, practice of self-help techniques, and use of complementary therapies can assist coping and recovery from illness. Includes practical guidance, references and case histories. The author has worked as both orthodox doctor and natural therapist.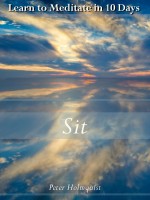 Sit: Learn to Meditate in 10 Days
by

Peter Holmquist
(4.00 from 1 review)
This book is especially designed for people who feel like they have NO time to learn to meditate, or who think that meditation is not for them. Yet it offers a beginner and an experienced meditator hints to make meditation part of a daily routine, a practice that can change their life. I offer it gratis, in gratitude and love for generosity and love I am receiving. Munay.