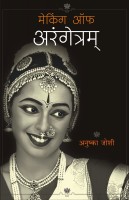 मेकिंग ऑफ अरंगेत्रम् | Making Of Arangetram
by

Anushka Joshi
Marathi Book Biography of a young girl from pune who is dedicated to bharatnatyam and her learning experience of Arangetram. रंगमंचावर ठेवलेलं पाहिलं पाउल म्हणजे अरंगेत्रम...पुण्यातील एक अनुष्का नामक मुलगी तिचेभरतनाट्यमचे प्रशिक्षण घेत आहे...तिने शिकलेल्या कलेचे सादरीकरण, तिच्या गुरूंच्या सहाय्याने पहिल्यांदा रंगमंचावर सादर होणाऱ्या अरंगेत्रमच्या प्रवासाचे भावानापुर्वक, उत्कट व सहज लिखाण.
Frozen Dance and Movement Activities
by

Shelly Stone
14 Dance and Movement Activities inspired by the movie "Frozen." Use in dance classes, workshops, camps, PE class or incorporate in your other lesson plans. Most activities are for ages 4-8, though some can be made easier or more challenging for other ages. Appropriate for both boys and girls.