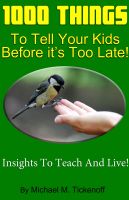 1000 Things To Tell Your Kids Before It's Too Late!
by

Michael M. Tickenoff
This extraordinary booklet contains a Treasury of information and an unusual assortment of Tools which are joined together with the threads of experience. They have been compiled and formed as a communications TOOL for every individual who is seeking a richer and more abundant affiliation with family, friends and youth.
Related Categories