Clutterfree with Kids
by

Joshua Becker
Children add joy, purpose, and meaning to our lives. They bring smiles, laughter, and energy into our homes. They also add clutter. As parents, balancing life and managing clutter may appear impossible—or at the very least, never-ending. But there is a better way to live. Clutterfree with Kids offers a new perspective and fresh approach to overcoming clutter through inspiration and application.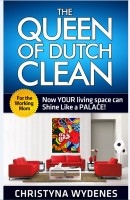 The Queen of Dutch Clean
by

Christyna Wydenes
"The Queen of Dutch Clean" for the Working Mom. The working Mom doesn't need to spend hours and hours to clean her house. Author Christyna Wydenes teach you the tricks in how to spend the minimum time and still accomplish the most! A MUST for ALL Working Moms!