Clutterfree with Kids
Children add joy, purpose, and meaning to our lives. They bring smiles, laughter, and energy into our homes. They also add clutter. As parents, balancing life and managing clutter may appear impossible—or at the very least, never-ending. But there is a better way to live. Clutterfree with Kids offers a new perspective and fresh approach to overcoming clutter through inspiration and application.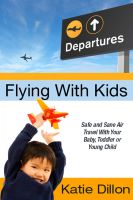 Flying With Kids: Safe and Sane Air Travel With Your Baby, Toddler or Young Child
As expats, long haul flights were a frequent part of my daughter's first few years of life. The purpose of this ebook is to share how I plan my flights, what I bring in my carry-on, gear I like, my experiences onboard (keeping kids entertained, food, sleeping), how to cope with jet lag, and more. You will find helpful information here, regardless of how long your flight is.