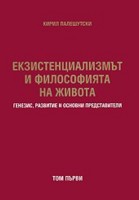 Екзистенциализмът и философията на живота
by

Кирил Палешутски
Книгата е плод на "потреса" и "шока", който авторът ù изпитва през 1982 г., когато прочита есето на Албер Камю "Митът за Сизиф". Проследява се генезиса на възникването на екзистенциалната философия, който, според автора, се намира в древна Индия. Качвам само предговора, три глави от книгата - 6,8 и 9 и съдържанието, като пълната версия на книгата ще бъде качена до края на декември 2014 г.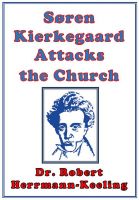 Soren Kierkegaard Attacks the Church
by

Robert Herrmann-Keeling
A philosopher-theologian's scholarly but highly readable book on Soren Kierkegaard, Danish "father of modern existentialism." Chapters include: his life, his literary methods, his themes, his attack on the 1840s Danish church for "making a fool of God," an objective life of Jesus, a summary of the first-generation church, and Kierkegaard's message to the church in our time. Bibliography.